[Update, May 2015: There has been a discussion on how the bioresonance allergy test is not scientifically-proven, and some readers have asked me for my thoughts on it.

I chose to let Latte go for this test solely because it is non-invasive and conducted at the clinic by a certified practitioner. I cannot vouch for its accuracy because I am not an expert but I have heard first-hand how the condition of some dogs has improved because of elimination after the test.

However, I have to emphasise that this test, like any other test and elimination methods,  does not treat. To me, it is a good gauge of just how susceptible your dog is to allergens. Sadly, it does not solve the root problem.

In latte's case, she was allergic to so many things, it would be hard to live. I think the real problem here is that many dog owners (like me when I first wrote this post) think that the way to treat allergies is to eliminate, eliminate, eliminate…forever. And that is something the practitioner and vets at the clinic will tell you to do – I don't agree with that.

If all dog owners do is eliminate, it's likely that their dogs will get allergic to more and more things. It is running from the problem, not solving it.

But how do you solve the problem? First of all, it's good to ask what's causing the problem. The answer may lie in your dog's immune system.

A poor immune system can also lead to other conditions like yeast infection, which will make the itching so much worse. This is a whole other topic by itself, which I will probably cover in the future.

For me, I believe in using holistic therapy to boost immunity. When the immunity is poor, elimination is essential to avoid the aggravation of symptoms, but the key thing is that you have to do something about building immunity (and avoiding things like steroids and antibiotics that suppress immunity), instead of just eliminating.

It will take a long time, but to me, it's the only way to go. – Latte's mama]

Hi everyone!

As some of you might know, I was suffering from itchy skin for quite a few months. We westies are very prone to skin issues and even though mama knew this when she got me, my constant itch still drove her mad.

Mama wanted to bring me for an allergy test since I was a puppy but it wasn't a priority until I started licking and scratching non-stop. However, when she consulted various vets, they didn't recommend it. Common reasons given were that I was too young and that the results might not be helpful to mama. For example, what can she do if she found out that I was allergic to dust mites?

But mama followed her instincts and insisted on bringing me for the test. Once again, she tapped furiously on her silver machine to learn more about these tests. There are three that she knows of:
Skin test – Possible allergens are injected slightly apart into the dog's skin near the rib area. Wherever the skin swells, it means the dog is allergic to the particular allergen. This is more accurate than blood test but it requires mild sedation and may break your heart
Blood test – The test measures the amount of IgE compound in the dog's blood. This compound helps the dog fight allergens
Bioresonance test – This non-invasive and painless test monitors how the dog's and the possible allergens' electromagnetic frequencies influence each other. You can find out if your dog is allergic by looking at the oscillation pattern, produced by the frequencies. Hence, results are immediate
Okay, away from the difficult words. It's not hard to guess which test mama chose – the bioresonance test! Oops, tricky word again. Let's call it the Beee-o test! Better? They should ask pups to name these tests instead 😉
She brought me to my old vet clinic, The Animal Recovery Centre at Serangoon Road. Before the test, mama had to prepare 20 items that I frequently eat or come into contact with.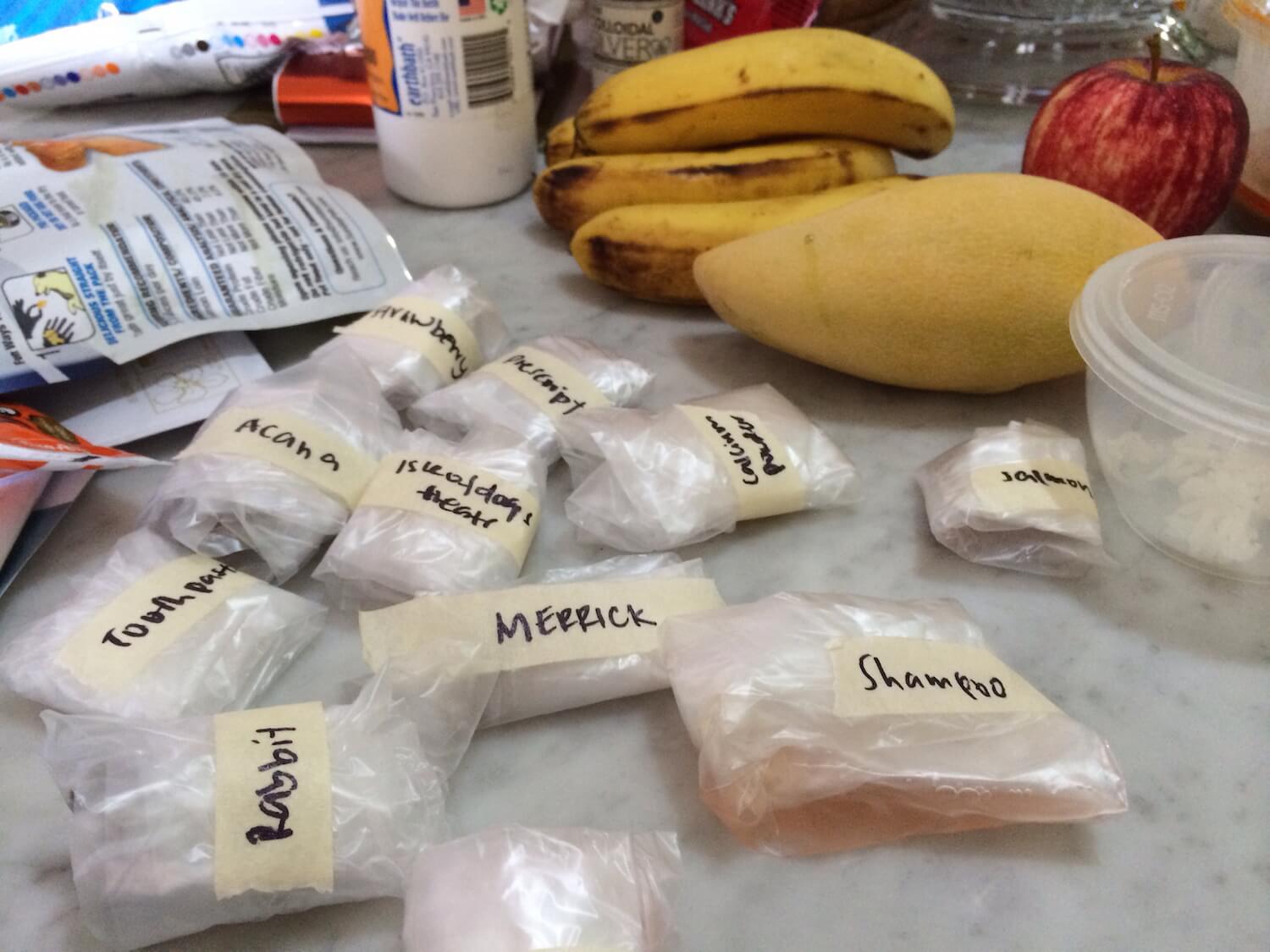 At the clinic, the items were transferred into tiny glass cups! I was wishing they would let me clean up afterwards ;D
Me during the test! Lucia, my practitioner was really nice and friendly. Maybe because she found me adorable 🙂 I felt at ease but got bored quite quickly. Mama solved this problem easily by bribing me with foods she brought for the test that I tested negative for!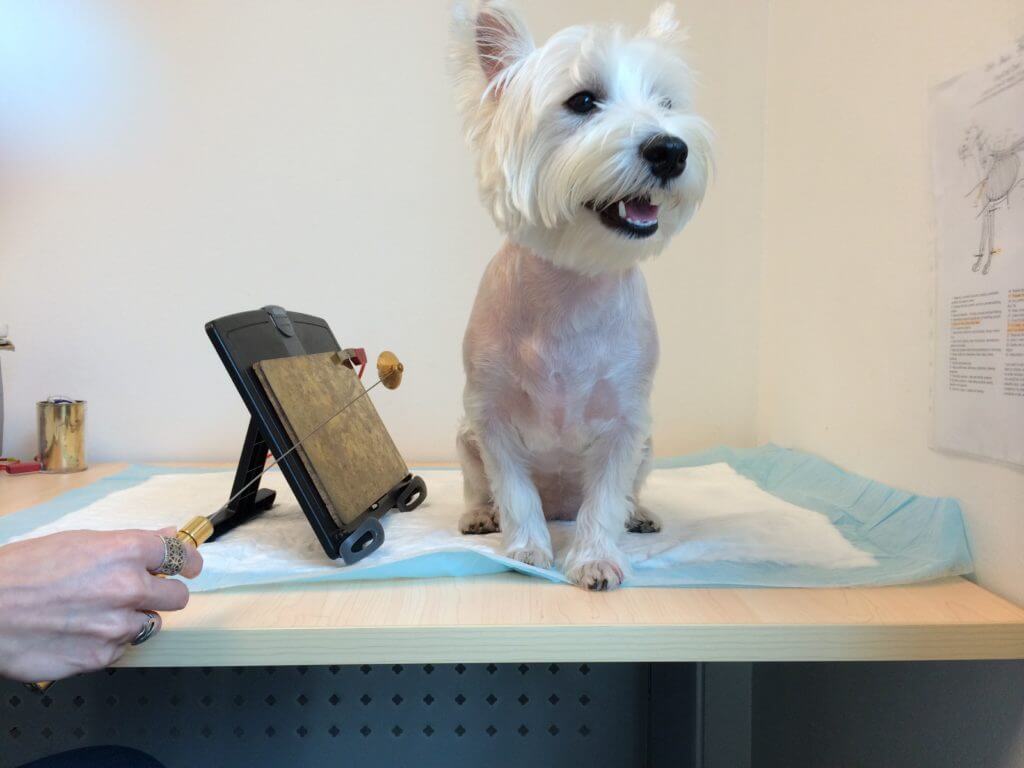 The test included testing standard allergen samples (such as different meats, vegetables, pollen, and oils), things that the clinic sold, such as prescription diets, supplements, and shampoo, and the things mama brought.
Through this test, mama found out that I am allergic to many things that I usually ate! I am allergic to common ingredients used in dog food and treats, such as apple, rice, potato, coconut oil, duck, turkey, chicken, oats, barley, and banana. I am also allergic to things I used to come in contact with on a daily, weekly and monthly basis, such as my shampoo, heartworm prevention medication, Revolution, calcium supplement and the prescription diet that the vet prescribed me for my skin issues!
Within a few days of eliminating the things that I'm allergic to, I have stopped scratching and licking completely! That makes me as happy as mama 🙂 [Update: It's up to you whether you believe this test works or not but my itching came back about one month later and subsequent tests didn't improve my condition. Eventually, a vet diagnosed me to have environmental allergies. You can read more here.]
Price: $300 (excl. GST) at The Animal Recovery Centre. If you want to bring more than 20 items, they will charge $2 for each additional item. After the test, you may choose to consult a vet for an additional fee.
Accuracy: No test is 100% accurate. The practitioner said the test is about 70% accurate.
Overall experience: The test was what mama calls non-invasive. It was quick, painless and totally easy for mama and me! I wasn't afraid at all and enjoyed playing with a hamster friend called Lucas!