Mama has been eyeing on BarkShop toys for a long time. But because they don't ship to Singapore she hasn't bothered to figure out how to do it herself. Well, not until she saw a taco toy she couldn't resist!
ISN'T IT CUTE? The squeaky "fillings" are held together inside a crinkly shell by velcros! Most toy-motivated dogs would love it. There are also other taco variations exclusively available at BarkShop.
Mama knows that ezbuy offers a parcel forwarding (ship-for-me) service. But she wasn't sure how to use it. So I had to ask my Instagram friends for help! @mochi_maltese_sg's mama who just got her BarkShop delivery kindly messaged us to tell us that she used vPost.
However, the shipping cost S$36 for her 0.9kg parcel! That's because vPost charges a base rate for the first 2.5kg along with weight charge and fuel surcharge. So, mama went back to using ezbuy. It simply charges S$3.99 per 500g and offers free repacking. It seems to be the cheapest in the market.
To give it a go while making the delivery more worth it, she bought two plush toys.
How to ship purchases from the US to Singapore
The following guide is based on mama's experience using ezbuy. Other parcel forwarding services may have different procedures.
Step 1: Order from your shopping site
Go to your shopping site (in mama's case, it was BarkShop.com), and just like how you would shop at any online store, add whatever you want to purchase to cart and check out.
When you reach the page where you need to enter your US shipping address, enter the one that your parcel forwarding service provides.
For ezbuy, you can find their US warehouse shipping address under "My Account" -> "Ship-for-me" -> "Forwarding Address" -> USA.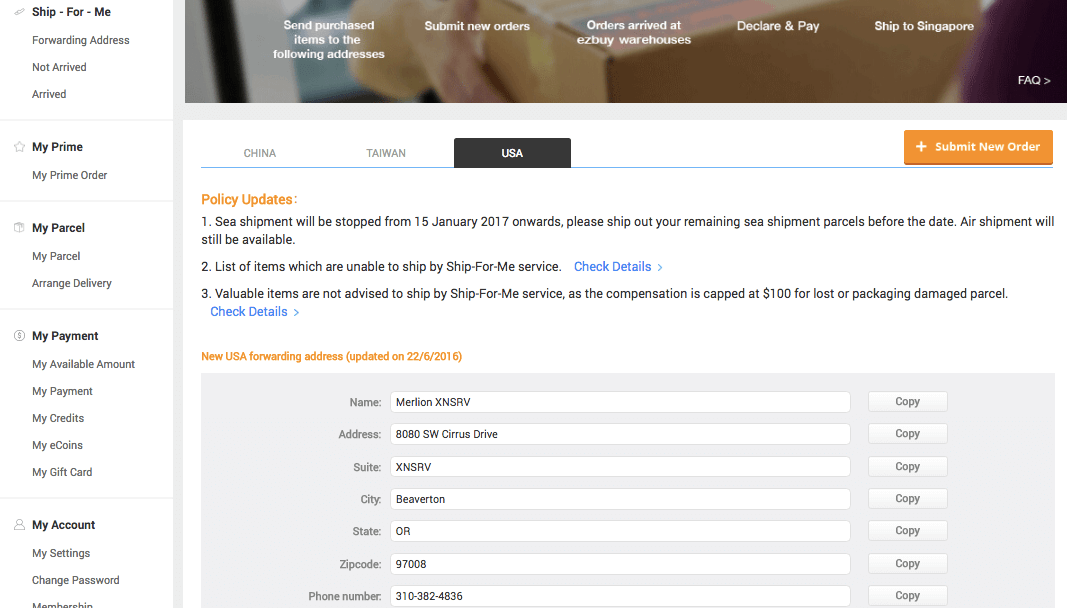 Do note that if your store doesn't provide a parcel tracking number, ezbuy would not be able to identify your items. Please ensure that they do before purchase!
After which, make payment and wait for your order and delivery confirmation emails. It should contain the details you need for the next step.
Step 2: Submit your order to your parcel forwarding service provider
Once you got your order and parcel tracking details, you can submit your order.
For ezbuy, simply go to the "ship-for-me" tab and submit a new order.
You have to enter the product URL, courier company, and parcel tracking number. You can also choose whether you want ezbuy to repack your parcel (it's free) to minimise the shipping cost to Singapore. Do note that the repacking service may not be free with other parcel forwarding services.
ezbuy ship-for-me cost:
For parcels from the US – S$3.99 per 500g
ezbuy delivery time from the US to Singapore:
5 – 7 working days
You wouldn't really know how heavy your parcel would be unless you email the store to ask.
My parcel came up to be 0.54kg so it cost mama S$7.98. Yes, because it exceeded 500g, mama had to pay another S$3.99. Should have gotten one more toy!
For the ship-for-me service, ezbuy doesn't check your purchase for accuracy, damage, etc.. They have a value-add service where they take photos of your purchases at a cost. Alternatively, you can use their buy-for-me service where you paste the product link, buy and pay on ezbuy directly (agent fee applies).
Step 3: Wait for your parcel to arrive at the US shipping address before shipping to Singapore
It took BarkShop just one to two working days to send out mama's purchase. It then took six working days to arrive at ezbuy's US warehouse.
Once your parcel has arrived at ezbuy's warehouse, you will receive an email. You can then choose to ship it or wait for other parcels (if any) to be shipped together (free storage for 30 days). After mama paid for the S$7.98 shipping cost, it only took three working days for my parcel to arrive in Singapore!
All in all, it took about two weeks from purchase to receive the parcel.
Step 4: When your parcel arrives in Singapore, collect your product or get it delivered to your doorstep
Mama was very pleased with how fast ezbuy took to ship the parcel. She chose the neighbourhood collection option as the collection point is just below our apartment! You can also choose to have the parcel delivered to you at a cost.
Step 5: Acknowledge that you've received the parcel and give a review
This step is not compulsory but it helps ezbuy close the loop and offers you a chance to give your feedback.
Overall experience
Mama had an easy and fuss-free experience using ezbuy's ship-for-me service. With a few clicks, everything was done! The shipping to Singapore was faster than she expected and everything came in good condition. She would use ezbuy again for parcel forwarding!
Bonus: Download the ezbuy app and manage your deliveries on-the-go.
Oh, and guess what? I prefer my Pepper's Pumpkin Pie plush toy to mama's favourite Tito's Taco plush toy!
Have you tried forwarding parcels from overseas to Singapore? Comment and let us know your experience!
ALSO READ: 12 budget-friendly dog accessories from Taobao for the modern dog
---
Subscribe to join our pack and find us on Facebook and Instagram.