Bailey turned one year old a month ago and held his first birthday party last month at Paws N Pans Cafe. Read on to check out how the party went!
I turned one last month, and had my first birthday party together with my friends, Baby and Nugget!
Within a few weeks of planning, we decided to host our party at Paws N Pans.
Mama liaised with Fayth, via Facebook messenger, and she was prompt on her replies!
We booked the entire place to fit over 50 guests and 30 dogs. Thankfully, the dogs we invited were small to medium dogs, leaving ample space for all to walk about!
Did I mention that the party was jungle-themed? Although I did not appear in the right attire, Mama decorated the venue accordingly. Some of our sporting furry guests were also dressed to the theme!
Paws N Pans presented us with a wonderful dinner spread. Our menu of the day: Basil chicken fried rice, chicken nuggets, French fries, and seaweed chicken.
The furkids had the pork bento set, consisting of pork, brown rice, and potato. Mama was even tempted to try it as it smelt so appetizing!
Furthermore, Fayth was so kind to have added a fried scallop side for the humans and extra bento sets for the dogs.
The best thing? The staff refilled the food whenever they realised it was running out!
The staff was wonderful from the start. They allowed us to go decorate the place at 5.30pm. Seeing that we were busy, they even poured drinks for us!
At 7pm sharp, we started greeting our guests with goodie bags and a splendid dog treat table!
Food for humans was on the second level, where both humans and dogs mingled. Afterward, we had a big photo-taking and cake-cutting session!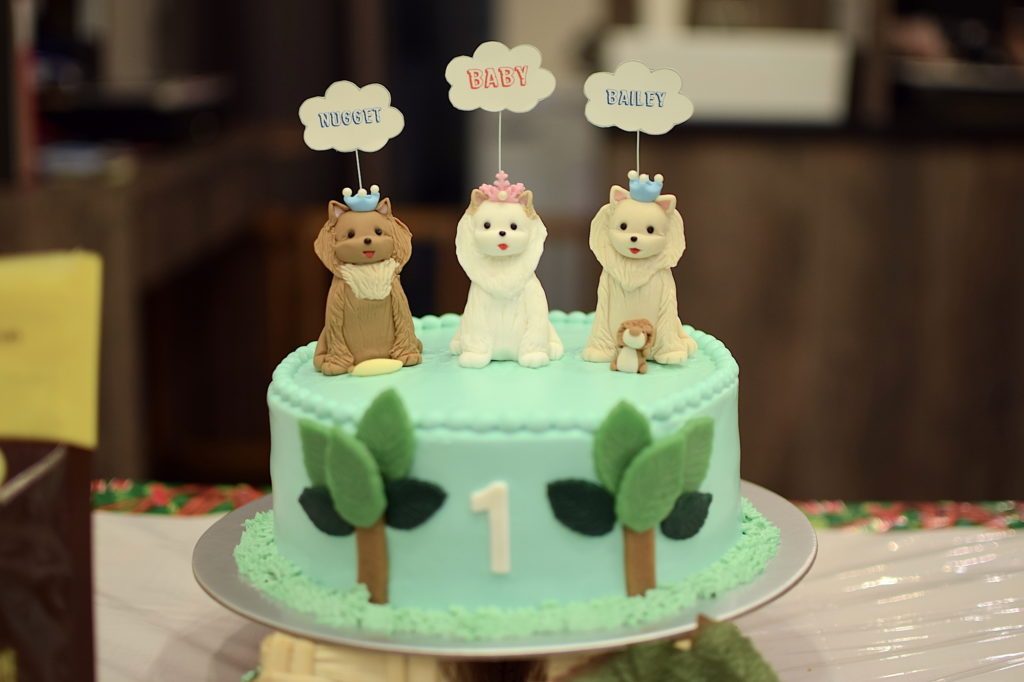 Isn't this cake pretty?! We customised the peanut butter cake to suit our theme and added 3D figurines for the three birthday dogs! We got the cake from CoBam at $150.
I don't mean to brag but it was a really fun party. I was so excited seeing all my friends and I'm glad they enjoyed themselves. Thank you all for coming down to witness my "adulthood" party!
If you are keen on celebrating your dog's birthday party or hosting an event, check out Paws N Pans! They not only provide the venue but food and drinks as well, making it a hassle-free party!

Lastly, many thanks to our amazing sponsors for letting our guests go home with amazing goodie bags!
Sponsors List
1. Munchin Pups
Munchin Pups imports quality single-source ingredient goodies at the lowest prices. You will find chews and treats for dogs of all sizes and chew habits.
They kindly sponsored roo chews, which are hypoallergenic and from 100% free range Australia kangaroo.
2. Chew Time
Chew Time provides a wide variety of safe and natural pet chews for dogs. Don't know to get? They made it easier for you to decide by sorting chews according to a dog's chewing power.
3. Pawfact
Pawfact provides naturally good dog treats as they believe that "you are what you eat".
They make gluten-free treats without chemicals, salt, sugar, and colouring. Each treat pack is vacuum-packed for freshness! If you are looking for treats of unique flavours, Pawfact is your answer! We love the Bak Ku Teh cookies we got.
4. Paws N Pans
Thank you Paws N Pans for partially sponsoring our party. The party was a great success thanks to you!
---
Join Vanillapup on Facebook and Instagram.