AIA Paw Safe pet insurance serves a different purpose to the other available pet insurance plans in Singapore. It is more of an accident plan for your dog.
AIA Paw Safe coverage
It covers vet expenses due to an accident, offers third-party liability compensation, and pays you when your dog is stolen or passes away due to an accident.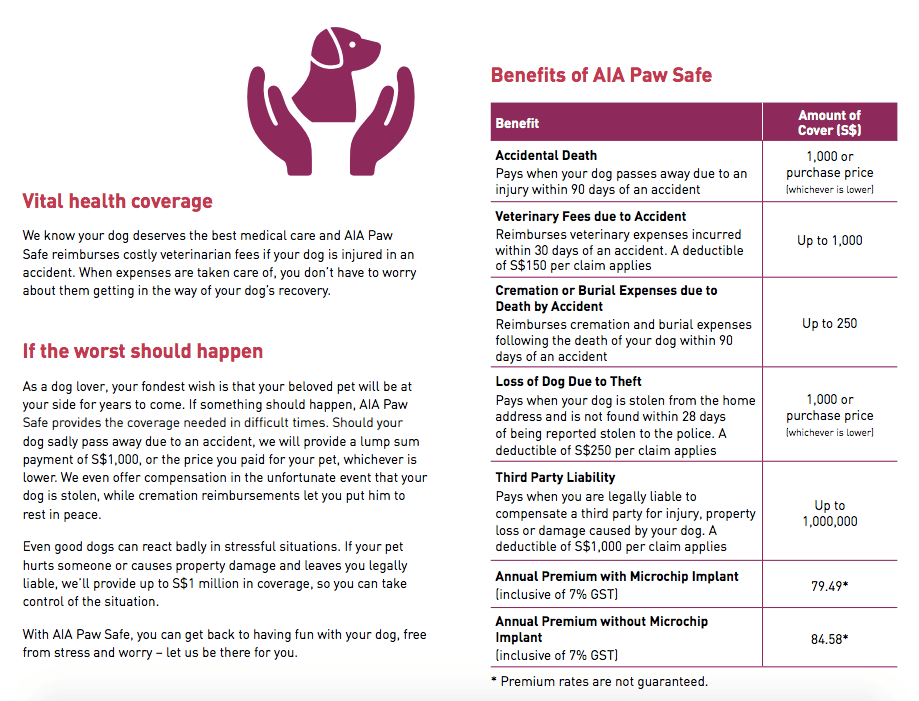 Unlike the other plans in the market, it doesn't cover vet expenses due to medical conditions that don't arise from an accident.
That is why the premiums are very low – $79.49 for microchipped dogs and $84.58 otherwise.
Eligibility
Your dog must be between 3 months to 7 years old
Only up to two dogs per household can be insured
Comparison with competitors
What AIA Paw Safe offers overlap greatly with Liberty PetCare, which covers all except final expenses. But the latter also offers clinical and surgical benefits for the eligible medical conditions, such as cancer: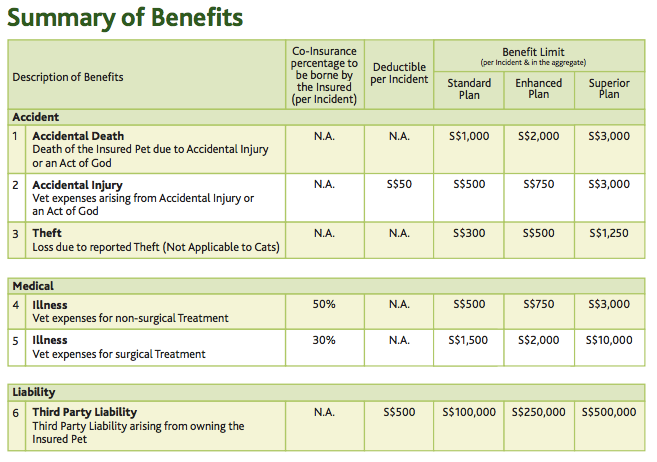 The other competitor, Happy Tails Pet Insurance covers surgical-related treatments, chemotherapy, third party liability, and final expenses.
By providing more comprehensive coverage, both Liberty PetCare and Happy Tails are more attractive options than Paw Safe.
You should only choose AIA Paw Safe if:
an accident coverage is your priority and
you do not want to spend more than $100-200 on pet insurance
If coverage on vet expenses is your priority, then you can narrow your consideration to Liberty PetCare and Happy Tails Pet Insurance. For a detailed comparison between the two, click here.
AIA Paw Safe | Website | Product brochure
---