Pet Expo is back, and we are excited to visit our favourite brands and sniff out new ones.
If you haven't marked this annual pet event of the year down on your calendar, you can find Pet Expo 2016 event details here. Otherwise, let's hop straight into…
9 booths you should not miss at Pet Expo 2016!
1. Happy Tails Pet Insurance
If you have been in a dilemma of which pet insurance to get, Pet Expo 2016 will be a great place for you to shop and compare. Our preferred choice is Happy Tails Pet Insurance – read our comparison between Happy Tails vs. PetCare.
Also, if you sign up for Happy Tails Pet Insurance there, you will receive exclusive 10% off your premium, a Happy Tails bandana and a goodie bag!
Find Happy Tails Pet Insurance at B49.
2. Howlistic Life
Howlistic Life distributes a lot of my favourite things, including K9 Natural, Dom & Cleo Organics, Dear Deer, FuzzYard and Zee Dog.
This year, they are debuting Raw Rawr, a new commercial raw diet at Pet Expo 2016. I was one of the guinea pigs who tried the venison meat during their trial, and it was fresh and loaded with blood. Mama gave her nod of approval while I was busy licking my bowl clean.
Howlistic Life will be having some amazing discounts and promotions – trade in any old pet bed or mattress and get an additional $20 off a new FuzzYard bed and get a free Zee.Dog bow tie with any collar and leash purchase.
Don't forget to grab a free goodie bag too – only for the first 900 visitors!
Find Howlistic Life at A15.
3. Pet's Nation
Here's a membership that can help save you money! Pet's Nation offers up to 30% discounts and subsidies for your expenses at their growing list of partners. Read more about the Pet's Nation Membership.
Find Pet's Nation at C28 and C30.
4. Paws Fur Life
Tired after fighting the crowd at Pet Expo 2016? Go for a massage! I mean, for your dog. While you are at it, check out Paws Fur Life's dog food and treats. Why? They have been the ones contributing those delicious recipes on our blog!
Find Paws Fur Life at C45.
5. Ginger and Bear
Ginger and Bear is a speciality shop that offers stylish and high-quality products for both pets and humans. Brands you can look out for includes WOOF New York, Zogoflex, Billy Wolf and Found My Animal.
Find Ginger and Bear at D51.
6. ohpopdog
Mama has been dressing me in ohpopdog since I was one year old. If you haven't heard of them, you should visit their booth at Pet Expo, where they are offering special bundle specials and pre-order pricing!
From casual tees to fancy occasion outfits, and quirky bow ties to stylish walk accessories, ohpopdog will up your dog's fashion game.
Find ohpopdog at E47.
7. WOOGA!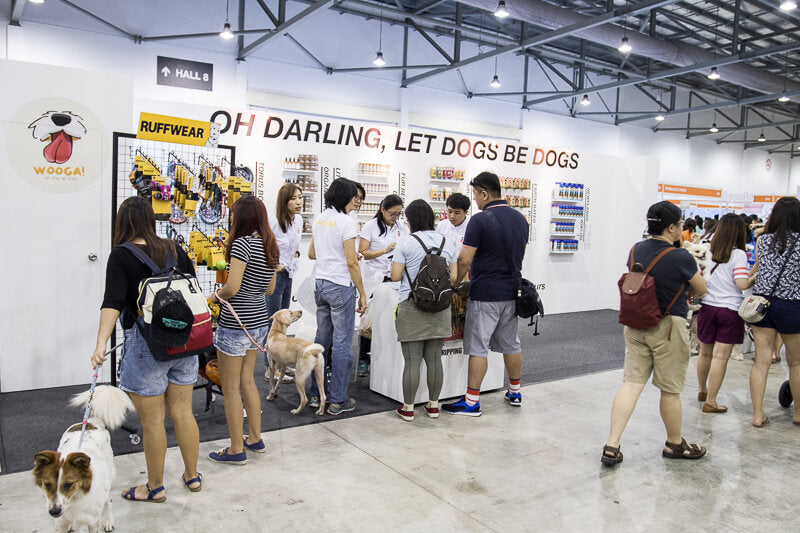 Besides offering daycare, boarding and handstripping services, Wooga! also sells natural and organic products for your dogs.
We've tried their Little Beast soap and love it very much. It uses essential oils and lathers well. Get it at a discounted price of $11.90.
Other products on special discounts you should check out are their range of self-produced air-dried treats, Newflands Hoki oil, Ruffwear dog gear and Torus bowl, which filters and auto-replenishes water for your dog.
Find WOOGA! at B32.
8. Tiny Krew
Find eco-friendly and stylish pet products at Tiny Krew, where they carry great brands like Waggo, Jax and Bones and Ohpopdog. Get 5% off at the booth with your Pet Expo coupon.
Find Tiny Krew at E47.
9. PetVOQ

PetVOQ focuses on introducing innovative products for the next generation of pet care.
They will be unveiling their very own and Singapore's first smart pet series, SmartVOQ, which includes a feeder, a ball launcher and a paw washer. Receive exclusive early bird discounts for pre-orders at Pet Expo 2016.
Find PetVOQ at D50.
---
Join us on Facebook and Instagram.