Are you visiting Singapore or new to dog ownership in Singapore? Well, if you are looking for artisanal treats, luxury pet products, or just a cute toy or two to surprise your dog at home, you've come to the right place.
You won't leave empty-handed at these 15 Singapore pet stores:
Brick and mortar pet stores
Please note that most of these shops have online stores too. So, if you like their products but prefer online shopping, head over to their respective websites.
1. Barking Good
Barking Good is a gourmet dog bakery that's a familiar name to many dog owners in Singapore. We are glad that they recently opened their first physical store in Ang Mo Kio!
Left photo credit: @nuggiethecorgi
But before you make your way down, it's best to send them your order at least two days in advance. They may have a small selection of biscuits during the weekend but most of their menu is made-to-order to ensure freshness.
Barking Good | Website
2. Bubbly Petz
Bubbly Petz is first and foremost a pet grooming salon. But they have a small retail space selling pet products like apparel, toys, and grooming products. No harm dropping in when you are exploring Joo Chiat.
Bubbly Petz | Website
3. Howlistic life
Howlistic Life is a distributor of awesome brands like FuzzYard, Zee.Dog, K9 Natural, and Dear Deer. While they have a stockist and an online store, they occasionally open their beautiful showroom in Yishun during the weekend for customers.
If you would like to pay them a visit, follow their Facebook page or message them to find out when they would be open.
Howlistic Life | Website
4. Paws Avenue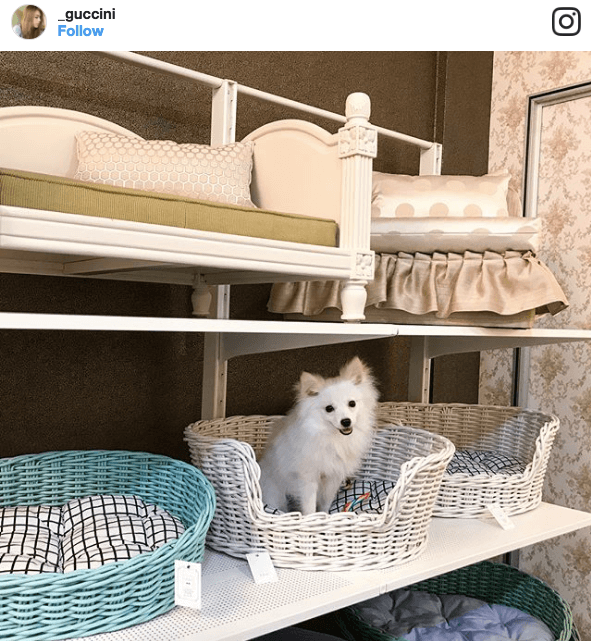 A new comer in Singapore's pet scene, Paws Avenue is located on Coronation Road. They have princessy dog couture, a selection of unique dog beds, and other accessories. Go there if you like lace, ribbons, frills, and bling.
Paws Avenue | Website
5. Pet Lovers Centre and Pet Safari
Pet Lovers Centre, including its separate concept, Pet Safari, is a chain of pet supplies stores with a presence in Singapore, Malaysia, and Thailand. If you are a tourist in Singapore and have limited time, pop by any of its 65 stores in Singapore for pet treats, toys, and accessories.
However, do note that Pet Lovers Centre rents out spaces to businesses that sell pets at some of its stores.
Pet Lovers Centre | Website
6. The Barkery
The Barkery is another well-loved dog bakery, located in Joo Chiat. They have dehydrated treats, biscuits, and dietary supplements. You will also find toys, grooming, and cleaning products in their cosy store.
The Barkery | Website
7. Woofer & Purrlensky
Woofer & Purrlensky offers luxury accessories for pets. Their specialties are handmade leather pet collars and leashes and high-end pet furniture. Go say hi if you are in the Chinatown area.
Woofer & Purrlensky | Website
Online pet stores
8. Chew Time
Looking for some good chews for your dog? Chew Time has chews for both the gentle and the uber strong. They have anything from crocodile bones and roo tails to bully sticks.
Chew Time | Website
9. Ginger and Bear
Ginger and Bear is one of the first online pet stores you should check out if you only care for stylish pet accessories. They have products from Billy Wolf, Cloud7, P.L.A.Y, Gemma Cornell, amongst others.
Besides products for pets, they also have stuff for the dog lovers.
Ginger and Bear | Website
10. GOOOD Pet Collars
Here's a brand that is committed to a social cause. GOOOD Pet Collars donates cat food every time someone buys something and has donated close to 40,000 cans of food so far. Besides that, you will love that their collars and bowties are comfortable, bright, and quirky.
GOOOD Pet Collars | Website
11. Furrplay
Furrplay sells a curated collection of premium products for dogs and cats. Their brands include Wagwear, Mungo and Maud, Natural Slow Inc., and Up Dog Toys.
Furrplay | Website
12. Ohpopdog
Ohpopdog is our homegrown pet apparel brand. Their clothes, bandanas, and bowties are worn by many stylish pet celebrities. Don't worry if you are not coming to Singapore anytime soon, they deliver overseas.
Ohpopdog | Website
13. Pets Actually
Pets Actually primarily sells contemporary pet furniture for the hip cats and dogs. They have products from Barketek, Loyal Canine co., Hello Pets, and Huts & Bay, to name a few.
Pets Actually | Website
14. petVOQ
petVOQ focuses on introducing innovative pet items that truly represents the next generation of pet care. Whether it's a pet feeder, ball launcher, or interactive toy, it's a nice way to surprise your little pal.
petVOQ | Website
15. Knibbles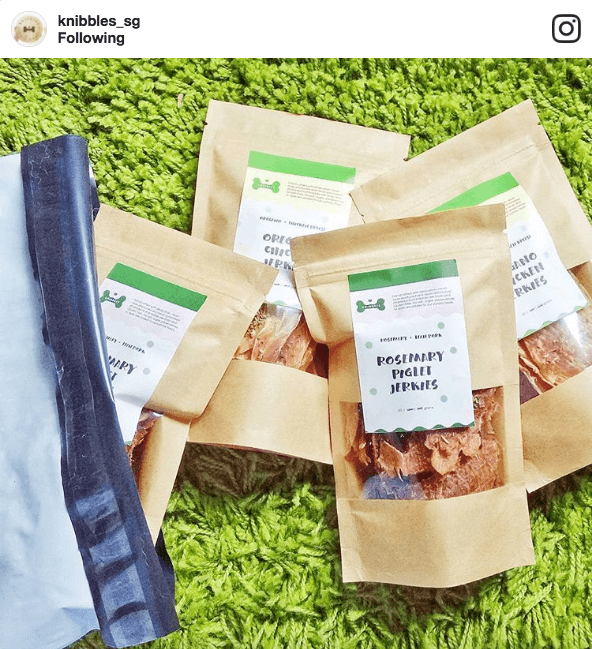 Ending the list with another pet bakery. I mean, that's the way to a dog's heart, right? Knibbles offers nicely packaged dehydrated treats. When we tried a packet, we liked that their treats aren't as hard as the other dehydrated treats we've tried.
Knibbles | Website
Looking for online pet supplies stores instead? Here's a list of Singapore online pet supplies stores.
For a list of Singapore dog bakeries, click here.
---
Subscribe to join our pack and find us on Facebook and Instagram.