Singapore may be small, but we sure have no lack of dog swimming pools to choose from! Regardless of your budget and needs, you will be able to find a pool that's ideal for both you and your furkid.
Outdoor Pools
1. Sunny Heights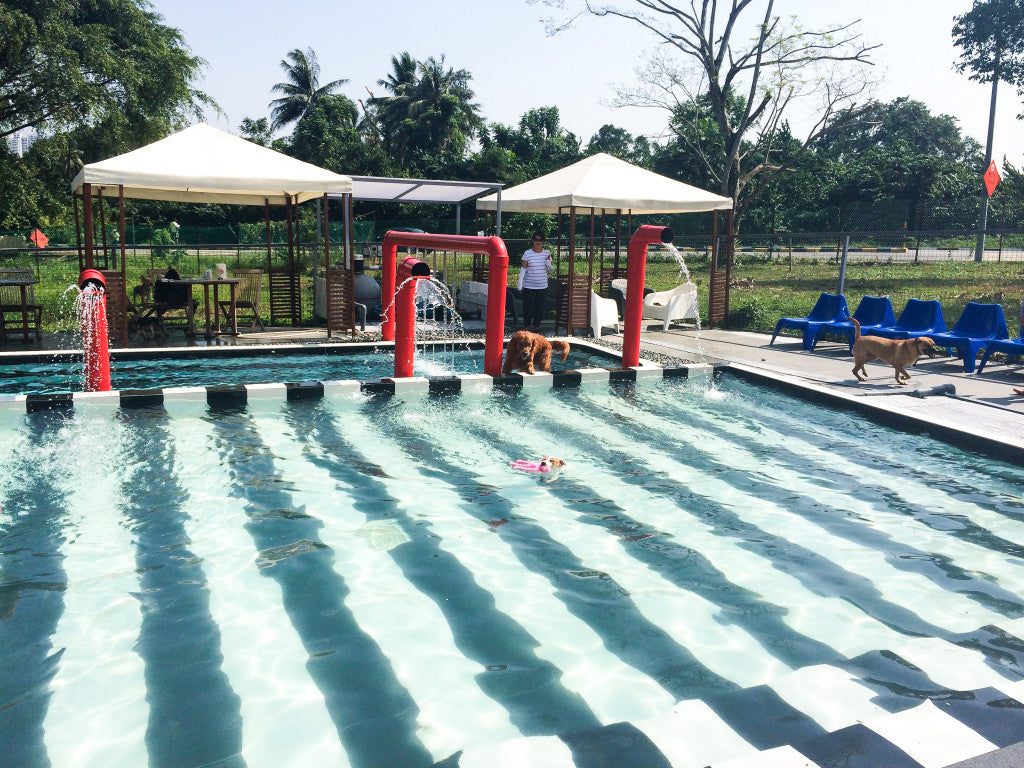 No idea where to bring your furkid for a fun day out? Sunny Heights has you covered. The entire space houses a dog daycare and boarding centre; Fur'N'Away, a pet grooming salon; Ah B Cafe, a pet-friendly cafe; and a pool area with cool water features.
Space: The pool area is spacious, and dog owners can sit around without getting wet.
Safety: The tiles in the shallower pool are pretty slippery, so be careful when stepping in. Floatation vests are also available for rent at $2 each. Only dogs that are up-to-date with their vaccinations are allowed entry. Keep your eyes on your dog, as it can turn chaotic during crowded days.
Washup: You can wash your dog down before and after entering the pool using the available tap and water hose. Alternatively, you can pay $10 for a 10-minute bath at the self-service Dog Wash machine (shampoo and conditioner provided).
Price: $18/hour. Package is available.
Sunny Heights | 110 Turf Club Road (directions) | Website | Facebook
2. The Wagington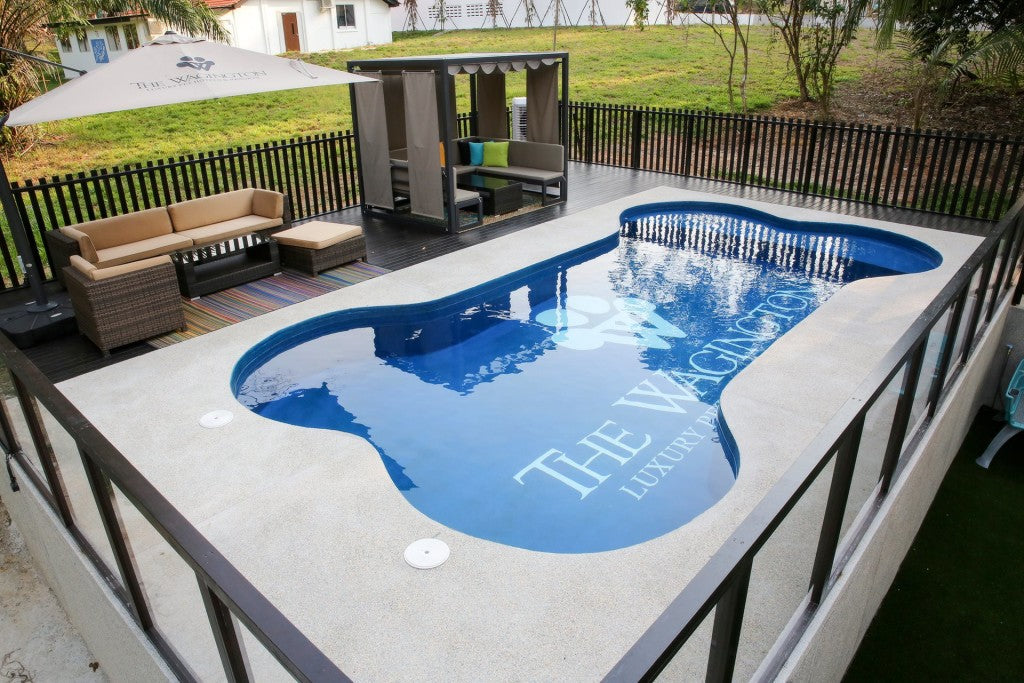 There are no limits to how much you can pamper your dog. A five-star pet hotel and resort with luxurious suites, spa treatments, and in-room dining, The Wagington definitely raises the bar when it comes to pampering the furry ones. After a good swim, send your pooch for an aromatherapy facial or a very much deserved paw-dicure to end the day like a true royalty.
Space: Even though the pool area is not as big as Sunny Height's, dog owners can relax at the parasol lounge or under the premium cabana while the dogs have fun. A selection of beverages is also provided to pamper the humans too.
Safety: Supervised swimming is available for hotel guests at an additional cost. For other visitors, be sure to help your pup put on a floatation vest and always be on watch.
Washup: After the swim, you can bathe your pup in their elevated Booster Bath imported from the USA. Dog owners can also get a proper wash up at the hotel's shower room.
Price: Starts from $22/hour.
The Wagington | 27B Loewen Road (directions) | Website | Facebook
3. Sun Petgamart
Out of all the swimming pools that I've been to, mama is the most unimpressed with this. But hey, at least you can go shopping at the petgamart after the swim!
Space: The 30x10m pool at Sun Petgamart is big enough to manage a crowd.
Safety: The pool deck is quite slippery so be sure to wear non-slip footwear when you visit.
Washup: The pool has a basic bathing area, which in mama's opinion, is their only redeeming feature.
Price: $38 for a five-year membership that includes free swims on weekends and 20% off regular priced items in-store. $10 per dog for members on weekdays.
Sun Petgamart | 26 Seletar West Farmway 1 (directions) | Facebook
Indoor Pools
Indoor pools with trained therapists are great for dog owners who don't want to get wet. However, you also don't get to bond with your furkid this way. I prefer heading to the beach to constantly swimming in a pool against my own free will. But every dog is different, so here are two indoor pools that you can consider:
4. Pet Stop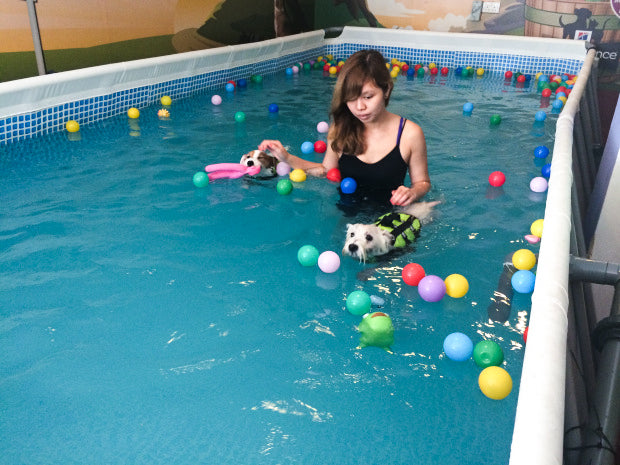 Space: The pool is big enough for more than two dogs, but only two dogs can be in it per time slot. Sadly, there was nowhere for dog owners to sit and wait. Well, at least the kind shop owner offered mama a drink while she was watching me. I got nothing!
Safety: A therapist will be keeping your dog safe and swimming properly. All dogs have to be vaccinated.
Washup: You can opt to have your pooch showered or groomed at an additional cost. Otherwise, a bath is only possible when you get back home. Fortunately, the sea salt chlorinated water is great for my skin!
Price: Starts from $10/hour, depending on the size of your dog. Full price list here. Members enjoy savings.
Pet Stop | 800 Upper Serangoon Road (directions) | Facebook
5. Canine Wellness & Rehab Centre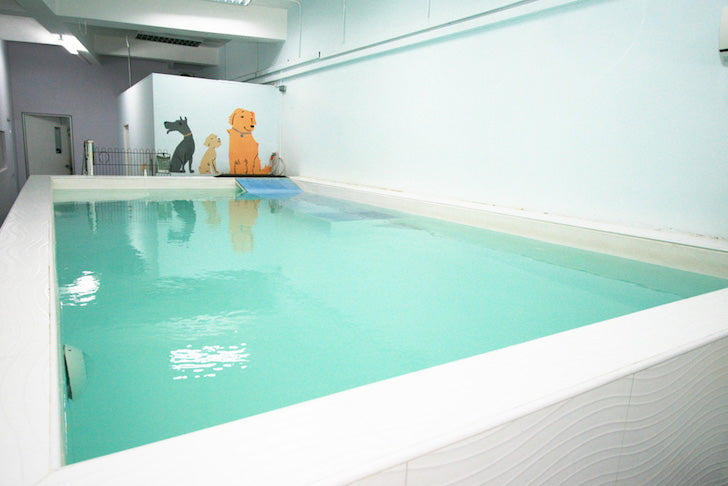 I haven't been here before but I thought it's worth a mention because it offers professional hydrotherapy and also fun swims. For the latter, you can choose to go into the pool with your furkid. Just make sure that you inform them of your choice in advance.
Space: The centre boasts the largest indoor canine hydrotherapy pool in Singapore.
Safety: For your dog's first fun swim, a therapist or trained staff member will guide your dog. All dogs have to be vaccinated, and free of wounds and sores.
Washup: Shower facilities and blow-dry service are provided.
Price: Starts from $55 per 30-minute session. Packages are available.
Canine Wellness & Rehab Centre | 24, Telok Kurau Road, Uni Building #01-05 (directions) | Website | Facebook
---
More from Vanillapup on Facebook and Instagram.