3 reasons why mama and I love shopping with Kohepets – affordable prices and a wide variety of products, free delivery above $60, and super fast delivery.
I am getting sponsored! Mama was really happy to receive the good news because Kohepets has been her favourite online pet supplies store. She (not me, boo) will be picking products to let me review for the blog! Comment below if there's anything you like us to try out.
3 reasons why mama and I love shopping with Kohepets:
Cheaper prices and a wide variety of pet supplies: Mama did a couple of price comparisons across many online pet shops, and Kohepets is generally cheaper than other online pet shops in Singapore. As Mama's first pup, there are many things we need, which can range from dog food, collars and leashes, water bowls, toys, etc. Being able to get almost everything she needs in one place, is not only convenient, it also makes the next point easier to achieve
Free delivery with minimum $60 purchase: This is the lowest amount mama has come across. It's usually at least $100 minimum purchase
Super fast delivery: Mama is all about instant gratification (yay, new word!) and she has tried and tested this. Most of the time, they deliver the next day! It's great for absent-minded mamas and papas who always forget to restock pet supplies
Kohepets is also currently working on a new website! Mama is looking forward to an awesome pawsome shopping experience; will let you all know when it's up (update: the new website is now up!).
Goodies for me!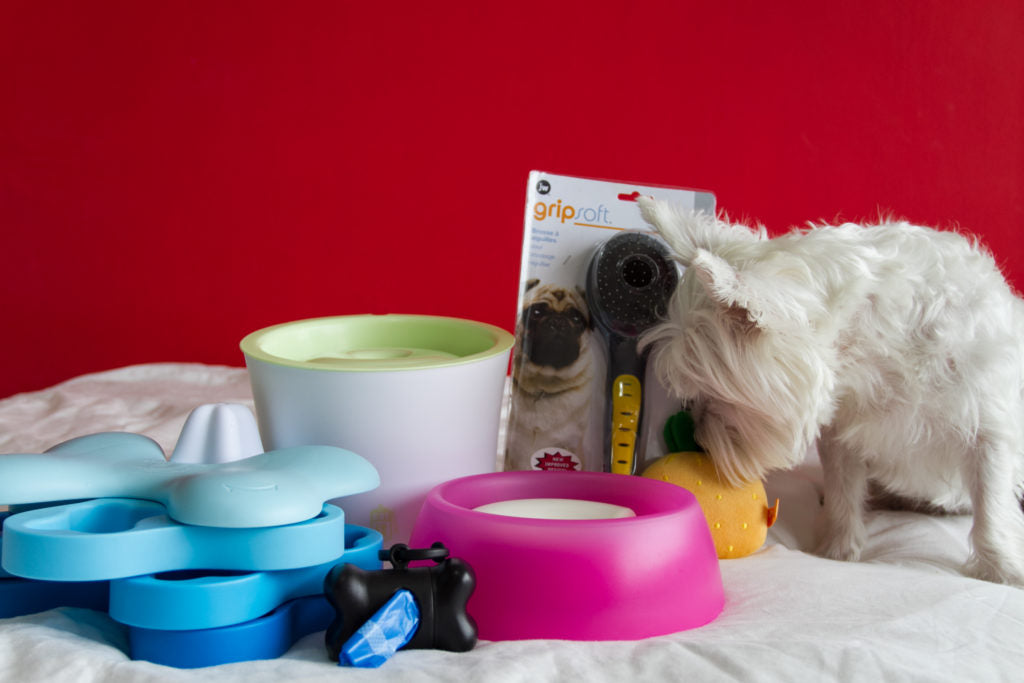 So far, mama has gotten me, from left to right, the Nina Ottosson Dog Tornado Toy, Catit Fresh and Clear Drinking Fountain, Dogs on Board Bone Dispenser, JW Gripsoft Pin Brush, Pet Spill Anti Stain Water Bowl and some Pura Pets Soft Toys. Yes, I'm so lucky!
I will be blogging separately about the Nina Ottosson toy, which I love so much and the drinking fountain, which much to mama's dismay, didn't lead me to drink more water.
Kohepets | Website | Facebook | Instagram | Email
—
Follow my photo diary on Instagram.